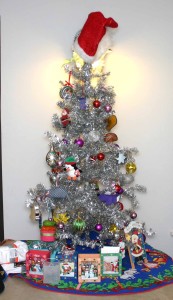 City Santa was founded in 2001 when two Santa's filled the dreams of three families. It began when they picked up letters at the post office that children wrote to Santa. So moved by the requests for food, shoes, clothing and coats instead of toys the following year they got their friends involved and City Santa was born.
Over the years City Santa has helped of hundreds of needy families in and around New York City. It has extended its
reach from letters at the post office to ones from children in shelters for victims of domestic violence, children of military veterans struggling after serving in the wars and other families in crisis.
City Santa is an all-volunteer organization that works hard to make sure as much of every dollar possible benefits the families. Financial donations received buy the clothing requested and fill stockings with essentials such as toothpaste, toothbrush, hairbrushes and gloves. City Santa also reaches out to manufacturers for donations of new towels, sheets,
blankets,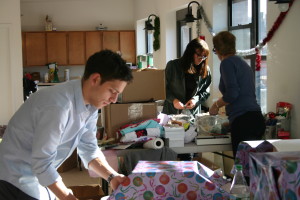 and other basics the families need, works with landlords to donate space for Santa's workshop each year and has toy drives sponsored by groups  large and small.
Volunteers come together for "wrap parties" to make sure everything is beautiful and ready for delivery to the families. In 2014 the Red Cross donated trucks for delivery and had volunteers to drive them. Every delivery has people are laughing, crying and passing around the tissues. And those are the volunteers!
City Santa is a 501C3 non-profit. All donations are tax deductible.