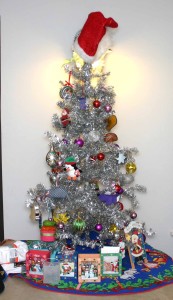 City Santa was founded in 2001, when two people picked up letters to Santa from the post office, in hopes of helping a few children.
So moved by the requests for food, shoes, clothing, and coats instead of toys, the following year they got their friends on board, turned their living room into Santa's workshop, and City Santa was born.
Since then, we've extended our reach from post office letters to families in shelters. Over the years, we've helped hundreds of children and needy families in and around New York City.
City Santa is an all-volunteer organization. We work to ensure as much of every donated dollar possible benefits our families. Your financial donations buy the clothing requested and fill stockings with essentials such as toothpaste, toothbrushes, hair brushes and gloves.
Toy drives are sponsored by groups large and small, and donations from manufacturers and companies with excess inventory fill in the rest; towels sheets, blankets, pillows and other basics, as well as toiletries, books and school supplies.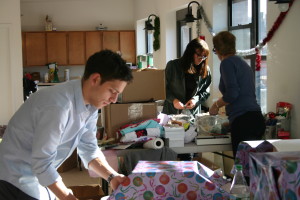 Landlords and property owners around New York City donate space for Santa's workshop each year. Volunteers come together for "wrap parties" to make sure every box is beautifully wrapped and topped with a bow and candy cane. Stockings are filled, and individualized holiday cards are written so each person feels special. Clear Santa bags are then filled with the gifts and topped with big red bows and personally delivered to each family. Since 2014, the Red Cross has donated trucks for delivery and their volunteers drive them.
Once a delivery is done, the tears start flowing and the screaming and dancing begins. And those are the volunteers! We are all grateful for the opportunity to help our fellow New Yorkers. Thank you!!
City Santa is a 501C3 nonprofit. All donations are tax deductible.
.